1. First exam tomorrow... am nervous, anxious and ready to be done with it. Memorized everything that we learned all year but somehow when I look at the practice exams I think- huh? Why can't law school be like med school where you just memorize and regugitate facts? Hope I'm not offending any of my doctor/med school friends... it's simply a matter of the grass being greener on the other side.
2. Abu came to visit. He was in town for a Georgia Tech conference. He spent the weekend with us and made about fifty dishes (as my students would shriek at this point.. that's..that's... an exxageration!) well yes, it is, but he made at least 5 which is something else, and would you know it that he's a good cook! Thank you abu jan.
3. Abu also laminated/framed a copy of my final article that I had written in 2002 for the orlando sentinel..... boy do i feel nostalgic about that. I really do need to write my book this summer.
4. Speaking of summer, in two weeks exams are over and when I think of May 13 (the day after my last exam)... I swear I hear music swelling and bright lights and doves chirping as they fly off in flocks.... I CAN'T WAIT.
5. Duluth made the news! The girl who mustve lost it briefly was jogging under 2 miles from my house. She disappeared and took a ride to New Mexico. Thank God she is not dead or strangled. But why is truth becoming more incredulous than fiction these days? It was fun to hear about my town on the news. "The citizens of Duluth are frantically combing the woods and holding prayer vigils" "the tight-knit community of Duluth"... by gosh it makes me feel a tad proud...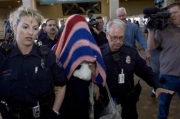 Duluths Runaway Bride